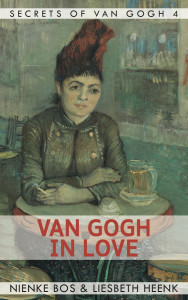 Van Gogh in Love tells the story of Van Gogh's longing for love and a family. It explores the lesser-known area of his (not so!) romantic love life. Matters of love were always on his mind, and were inextricably linked with other aspects of his life.
Van Gogh in Love focuses on the artist's relationships with four striking women: his widowed cousin Kee Vos, the prostitute Sien Hoornik, the unstable neighbor Margot Begemann and the flamboyant café-owner Agostina Segatori in Paris.
As can be expected from an artist like Van Gogh, his choice of women was unconventional. He favored more mature companions, and pursued relationships with women that were considered unsuitable.
Van Gogh's love affairs were frowned upon by his family, and further complicated by his lack of money. The artist's yearning for love and a family life was intimately connected with his artistic practice. There is no doubt that art was the most important thing in his life.
A woman could not only assist him practically, by serving as his model, but would also give him the opportunity to fully understand emotions like love, tenderness and compassion. A painter had to be immersed in his subject matter to properly express feelings in his work.
Van Gogh was convinced that love would make him a better artist. When faced with the disapproval of his parents, financial hardship and failure to sell his sketches and paintings, Vincent van Gogh turned to his only ally – his brother Theo. In frequent, long letters to Theo he described his romantic hopes and aspirations. The authors quote extensively from the Van Gogh letters, allowing the reader to discover the artist's feelings about love and relationships at first hand. Van Gogh in Love combines this basis in archival material with an entertaining and easy-to-read format, staying clear of jargon.
The book follows Van Gogh's quest for love up until his tragic end, detailing his life-long, and ultimately unfulfilled desire for a woman and a family. It is a moving and sensitive portrayal, shedding light on the man behind the iconic paintings.
Van Gogh in Love – A Romantic Van Gogh Biography is volume 4 in the series Secrets of Van Gogh. It has been written by Nienke Bos, with an introduction by Liesbeth Heenk. The publication is available as Kindle eBook and paperback.