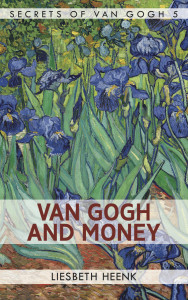 Van Gogh and Money focuses on Van Gogh's financial situation, a subject never explored in a separate publication before. The Van Gogh correspondence tells of an eternal lack of money and the difficulties this created when it came to painting.
But how impoverished was Van Gogh actually? Paint, canvases and models were not cheap. He was, however, more than happy to sacrifice his physical wellbeing in the interest of producing his masterpieces.
Van Gogh and Money follows Van Gogh during the time he spent in The Hague and Arles. At both stages, the artist was supported by his brother Theo, who sent him a monthly allowance that never seemed sufficient. This dependency  caused immense guilt. The Van Gogh letters give us a good insight into Van Gogh's financial affairs.
Van Gogh and Money presents a more nuanced view of Vincent van Gogh as the impoverished artist, as he was in fact in a rather fortunate position compared to many of his peers. It becomes clear that the artist was only poor in the light of his ambition. By reading this publication on Van Gogh and money, we hope that you will be able to better appreciate and understand Van Gogh's work by shedding light on the man behind the iconic paintings.
You can download Van Gogh and Money now
Available as Kindle eBook and paperback

"A Deep and Fascinating Look Into Van Gogh's Life"
"A great look in to the misconception of Vincent van Gogh's poverty."