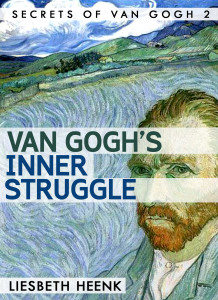 Van Gogh's Inner Struggle – Life, Work and Mental Illness is part #2 of the series Secrets of Van Gogh. Using Van Gogh's own letters as the primary source, I discuss the artist's life, his approach to his work and his hereditary mental illness. The letters reveal a man who took struggling in his stride, no matter how gloomy the future.
Reading the letters again was fascinating. Especially with the particular focus on struggling with his mental illness, the dilemma between selling and not selling, and how he viewed himself as an artist.
Whereas the artist knew what was sellable, he continued to produce what he considered as 'truthful' art, regardless of current taste. He did not expect the art-buying public to understand the rough appearance of his work.
He acknowledged that being an artist involved struggle, but believed that he would benefit from adversity, personally as well as professionally. "No victory without a battle, no battle without suffering."
In Van Gogh's case it seems to have involved a never ending battle against poverty, isolation and adversity. Given his circumstances – being financially dependent upon his brother, not selling, being mentally ill, and getting minimal recognition – his achievements are amazing.
Van Gogh's Inner Struggle is not an art book, but one that should give food for thought. I hope it sheds a new light on this fascinating artist who was so forwardlooking, persevering and brave.
You can download Van Gogh's Inner Struggle now
Available as Kindle eBook and paperback
"Intriguing book into the mind of Vincent Van Gogh"
"Very sensitive tribute to a sensitive artist"
"Interesting Insights into Van Gogh's Inner Struggles"
"Fascinating to jump into the mind of this creative genius"
"A book that raises important philosophical questions"
"Satisfaction and a sense of fulfillment to the biographer for a well written book!"
"A true historical biography of a great artist"