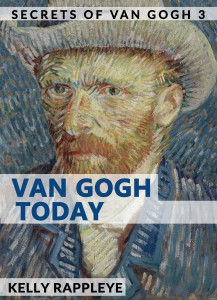 Van Gogh Today, the third volume in the series Secrets of Van Gogh, written by Kelly Rappleye, contains eight stories of lives that were touched by the artist. They are a reflection of the power of his story, and why Van Gogh remains a timeless inspiration to us all.
The story of Van Gogh's life has so many intriguing aspects that it touches our lives, perhaps more than we realize. It is clear that Van Gogh was a great artist who ushered the art world into a whole new era. But there is something more to the story of Van Gogh that continues to keep him relevant, generation after generation, inspiring people from all walks of life. There is an aspect that every person living today can relate to and learn from. His boundless energy and sheer determination against all odds have been a source of endless inspiration. Not only for his fellow artists, but for all of us.
Reviewed by Maria Stoica for Readers' Favorite (May 2015):
"It is amazing how this collection of inspiring short stories has literally captured the effect of Van Gogh's paintings on today's people. In Van Gogh Today, Kelly Rappleye brings the deep emotions from the paintings to life with her characters' stories as they find their hidden feelings, doubts and pains in Van Gogh's works. The topics tackled one by one in these short stories are real, yet sometimes hidden from our minds, and most of us have thought about some of them already. So had Vincent van Gogh and he made a painting for each resulting concoction of feelings. The characters discover the legend's works to be a much needed mirror for themselves. The people in the book are 21st century children, students, freelancers, teachers and fully grown adults who each represent a different concern usually specific to their age group or situation – ranging from middle grade bullying and a youth's epiphany when she finds her meaning in life to reflecting over a life lost to heavy drinking for global success, and the journal entries of a passionate filmmaker who put art before her own life.
I enjoyed reading and connecting with all the stories. The wonderful, rich descriptions give just enough detail to teleport you into each character's world while keeping an action oriented feel for some stories and an insightful introspection or dialogue for others. The writing is smooth, words flowing pleasantly to deliver the beautiful outcome of each story. Any reader will surely find him or herself in Van Gogh Today by Kelly Cole Rappleye."
Enjoy these original stories
You can download Van Gogh Today – Short Stories now
Available as Kindle eBook and paperback
"Riveting!"
"Refreshingly Different. This is Superb writing!" Dennis Waller (Top 500 Reviewer)
"This book is informative and inspirational"
"Excellent Read!"
"The Timeless Influence of an Artist"